Right now, I've got a drawerful of candy at work. I've been exiting the long stage of having candy on the outs.
Chocolove
makes the best toffee chocolate bars I've ever tasted. First off, I'm not an organic/natural/gourmet/fancypants chocolate bar kind of girl. $3-8 is a pretty penny to pay for chocolate that tastes better than the trash that is Hersheys. I recalling buying Chocolove one time before, for Erin for her birthday one year, because it tickled me that each wrapped had a poem or letter written inside of it. I've eaten my fair share of Skor and Heath bars, and I've also tried Green and Black's, but they all pale in comparison to this one. Toffee- it tastes so good and the base ingredients are butter and sugar. How can something so simple be so divine? I ate half the bar today without even noticing it, so much so that I dropped by Central Market on my lunch break to grab some of their bulk toffee. I was tempted to get it last time, since B was stocking up on gourmet cheeses and cured meats, but I resisted. Turns out that it is not nearly as good at the stuff found in Chocolove. It is moist, and then cavity-inducing sticky at the end. I have the same opinion for bulk items that I have about Whole Foods
eatery
: so much variety, but lacking in quality. They are not beneath using artificial flavors, partially hydrogenated oils and other crap found in processed foods. I don't recall the first time I ever set foot in a bulk foods section, but it must have been awe-inducing, because I still feel that tingly excitement every time I go back. Endless variety is so impressive, but I really have to question the healthiness and freshness of the items.
Yesterday I did a rare thing: watch two movies in one day. I used to have a lot more patience for sitting in front of a screen, but B's voracious appetite for media quickly outpaced mine in the beginning, so much so that I just watch whatever he wants to watch nowadays. You know how hard it is to compete with him in that way. We watched
Secretary
and the dreaded
Antichrist
, back to back.
Secretary
was pretty weird. I had planned on cleaning the house early on, but the David Lynchian set hooked me in. I definitely did not expect to watch a touching movie about an S&M relationship. Maggie Gyllenhaal stars as Lee, a young woman recently discharged from a mental hospital who finds work as a secretary for an "eccentric" lawyer. Eccentric as in prone to mood swings where he is soft and kindly one minute, and then unexplainably frosty the next. So they begin to have a dominant/submissive professional relationship at work, and it is interesting to see how that plays out later in their personal lives. It is a daring movie that tries to give credence to a sexual preferences previously defined outside the boundaries of normalcy. One note, Lee is shown as a cutter (I couldn't watch those scenes!). After she begins her relationship with her boss, she no longer cuts herself. But was she merely replacing self-abuse with sexual abuse? I hope that the underlying issues behind her cutting habit were dealt with, as I'm not sure hurting yourself in any context is healthy.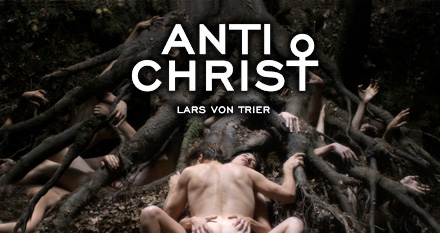 Then there was
Antichrist
. Disturbing promo image, huh? It's a story about a grieving couple who, after the accidental death of their young son, go off to their private cabin in the woods to find healing. Then the wife (the lovely Charlotte Gainsbourg) loses her marbles and becomes perversely dangerous. First off, I had no intentions of watching this after hearing it labeled shock-cinema, but somehow B convinced me to. It didn't really shock me because I made sure to hide under the covers during the two massively gory scenes. The movie was saturated with color and also darkness, especially when showing the main characters. And not to mention generous with scenes of graphic, depressing sex. There was a heavy emphasis on the grotesqueness of nature and animal life. I came away visually impressed, but unmoved. I think I would have probably been very bored if I wasn't on the edge of my seat the whole time preparing to be treated to a horrific scene. It is quite easy to brush off this sort of movies as gore for gore's sake, but it wouldn't be fair to do that to this one. I know this story means something, as the director Lars von Trier made it in the midst of depression, but I'm just not sure what.
Image sources: slash film, daily poetics